Christmas Gift Ideas for the bride-to-be in your life
Christmas is not just creeping upon us, it's barreling towards us. So what better to blog about than some seriously excellent Christmas gift ideas for the bride-to-be in your life?
Okay, okay… YOU might be the bride-to-be – in which case, you need to share your favorites off this list with your partner-in-crime ASAP.
Christmas Gift Ideas for the bride to be
If you're keen to find out more about one of these lovely gift ideas, click the text below the image to visit the place to purchase directly.
A hamper to spoil the bride-to-be
Wedding planning is hard work! Spoil the bride-to-be with a hamper full of pampering goodies
"First Married Christmas" Ornaments
This ticks the boxes for sentimental, sweet, and semi-wedding-related… a personalized Christmas Ornament for your tree.
These beautiful xmas ornaments could double as a gift tag for the newlywed's Christmas gift.
Below, this bauble holds a wedding photo = LOVE! These make great gifts because it's acknowledging a pretty massive milestone in their lives – why wouldn't they want to remember it?!
Christmas present ideas for the home
Marquee letters that'll be a standout at your wedding and in your lounge? Yes please:
A little pick-me-up
For the bride-to-be who is functioning on little-to-no sleep, coffee will be much appreciated… and the above wedding planning mug would be extra special for someone who's juggling wedding planning with a full workload and little rest.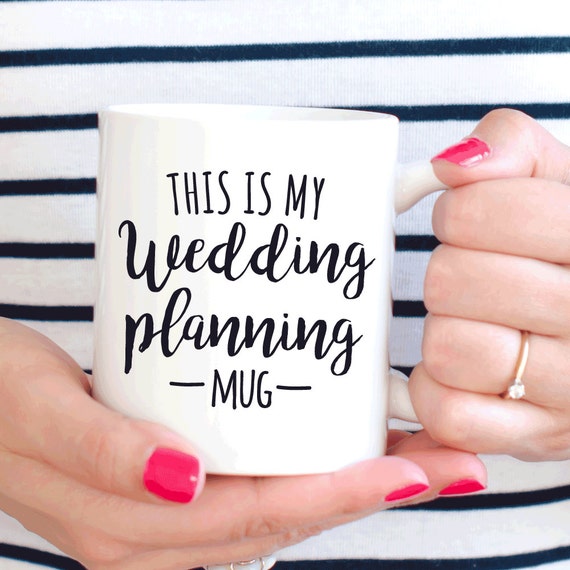 Whilst for a coffee-loving couple, these "hubby" and "wifey" mugs are a sweet idea. Pair them with a new plunger and a specialty roast for that extra touch.
Get crafty
A cutting board personalized with the married name and wedding date can make a great gift for a foodie couple. I can't decide between this one…
Christmas gifts for the wedding day
If you're buying for a bride-to-be, a thoughtful gift that can be used at the wedding could go down a treat. These handkerchiefs are not just funny, but practical too!
If your bride to be is procrastinating on her wedding planning, encourage her to get those important bits and pieces ticked off her wedding to-do list, with some wedding planning wine labels!
Memories
One of the first things that newlyweds need to run out and grab are photo frames and photo albums – so these personalised photo albums make a great, practical and personal gift at Christmas. The one below would be perfect for an adventurous couple…
…while the more traditional couple would appreciate this beautiful personalized wedding photo album:
This BEAUTIFUL white and gold foil wedding guest book would be a special gift in the lead up to the wedding day:
(More guestbooks ideas in our post)
Jewellery and personal bits for the bride or bride-to-be
You can never go wrong with a cute clutch for a gal's bits and bobs. If your bride-to-be travels often and loves makeup, a personalized makeup bag would make a great Christmas gift. Using her new last name intial pops a cherry on the top of this thoughtful pressie.
A custom-name necklace is a modern, personal gift.
What have you chosen to gift to your bride-to-be?